2013 | 2012 | 2011 | 2010 | 2009 | 2008 | 2006 | 2005 | 2004 | 2003 | 2002 | 2001
8/25/12
Greetings!

First of all, let me just say that I am a die hard fan of Super Double Dragon. I believe that it has suffered from neglect, especially during Double Dragon "retrospectives." If ANY game should be "remade," "re-imagined," or in this case, "re-worked," it SHOULD be this one.

So, it is a true joy to see Super Double Dragon treated so well on the site!

Just to be brief, I wanted to share some photos with you of a custom diorama level set. I focused on Mission 5 (Slum), specifically McGuire's boss level. I DO have the mini boxes that should be on the wall, but haven't taken a photo of those yet. Here is a draft (two photos). The stands are magnets glued to wood buttons that I cut myself to fit the feet from the figures. I printed each sprite (twin - identical sides) in their normal stances. Eventually, I will get around to printing out really awesome action sprites and Billy/Jimmy holding weapons such as nunchakus and the barrels.

DRAFT: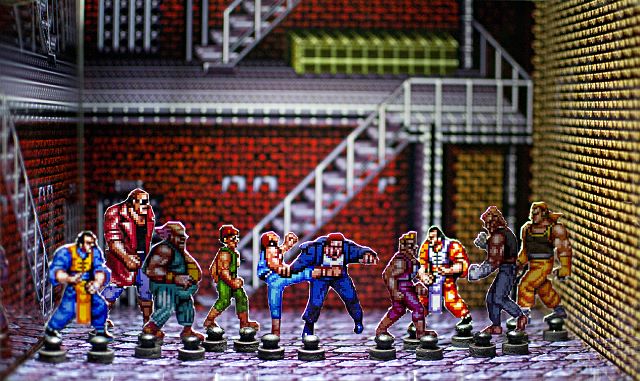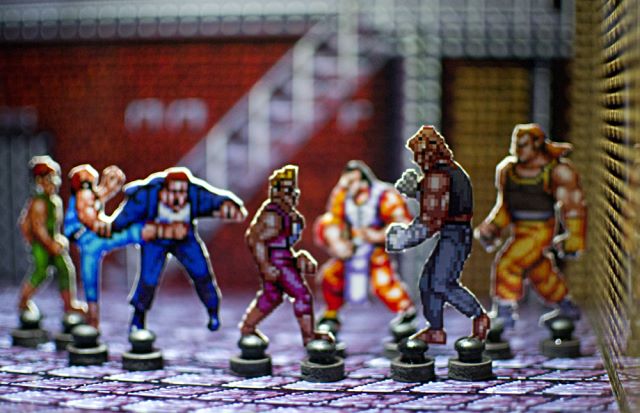 So please, feel free to share this with the Dojo members, as I have waited for a couple of years to finally email you with something worthy of being mentioned! I will definitely send more photos once it is finalized. Thanks again!
Hector
Thanks Hector. Those look great! I can't wait to see more.
I agree, if any game should be remade, it should be Super Double Dragon because the game didn't deliver in several aspects that it should have. It didn't even get a proper ending. Since we know what the developers originally intended to do with the game, there is room for them (through Million) to fill in those missing parts. I think Super Double Dragon should also be given more coverage in general. I could never find any information on the game as a kid. Thanks again for sending those in.
Dojo Master
Editor
---
8/13/12
I received a few videos from someone on Youtube, so here they are. Two Double Dragon themes played on a violin, and in a Linda costume no less!
www.youtube.com/watch?v=7tOdFdQiH6M (Super Double Dragon Casino Theme)
www.youtube.com/watch?v=Jfp_Qlz2tzU (Double Dragon NES Chin's Theme)
Dojo Master
Editor
---
2/7/12
Hey guys,

First of all, congratulations on the great work; I'm a die-hard DD fan ever since the original Double Dragon game surfaced in my
local arcade back in 1987 and have been following the series with ever growing passion, pretty much on every format imaginable, for all these years. Just thought you'd want to check out this real cool DD arcade cabinet miniature (see photos attached) that I purchased not long ago from a UK manufacturer. The cabinet stands 9 Inches tall (1/12 scale) and is made of modeling wood with glossy decals reproducing the original cabinet marquees. It's a great collectible item that any serious Double Dragon fan would want for their collection, and if anyone is interested, the model can be purchased here: http://www.retro-heart.co.uk/

Long live the Dojo and long live the Lees,

Enrico "Ramblin Erikk" Brienza
Thanks Enrico. That's really cool. I didn't know that anyone made miniature arcade replicas like that. I'm sure a lot of people will be interested in checking out that site. If I wasn't so busy buying a bunch of old games I'd probably pick one up as well. I'd probably love a Killer Instinct replica as well!
Dojo Master
Editor