Super/Return of Double Dragon Characters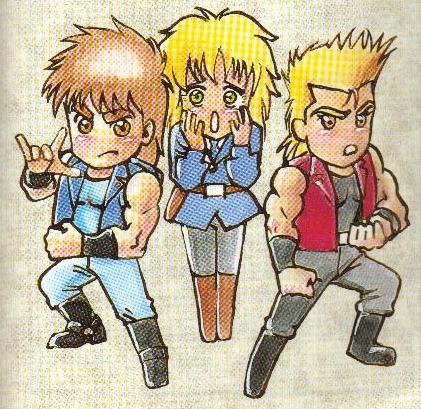 Special thanks to MWagler and Yagyuu Ranzou
---
Heroes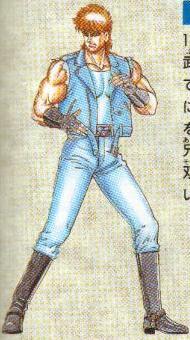 BILLY LEE


One half of the Double Dragons. He began to learn Chinese Martial Arts and several other kinds of fighting styles at the age of 12 and became heir to the Southern-style of Sou-Setsu-Ken at age 20.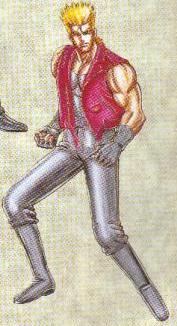 JIMMY LEE


The other half of the Double Dragons. He opened the Sou-Setsu-Ken Dojo in Los Angeles with his younger brother. He uses the northern-style of Sou-Setsu-Ken, which focuses on powerful techniques.
MARIAN KELLY
Policewoman. Student at Billy and Jimmy's Sou-Setsu-Ken Dojo. She is the only female member of the city's Narcotic Investigation Unit. She is currently held prisoner at the Shadow Warriors' secret headquarters. Note: Although Marian never appears in the game itself (unused game images anyone?), she does make an appearance in the Japanese manual's storyline section.
---
The Shadow Warriors

WILLIAMS


A soldier of the Shadow Warriors. He is an expert of his own martial arts and club techniques.

ROPER

A soldier of the Shadow Warriors. He and Williams are the main authority figures of the gang. He is proud of his own strength.

BAKER


An expert of fighting with Chinese swords. He can confuse his opponent with his light movement. His most powerful technique is the "Two Blade Cut," which can cut through almost anything.
JEFF


He uses his own rough style of Karate. He has a violent personality and likes to play mean tricks. Among the other soldiers of the Shadow Warriors, he is some sort of leader to the lower-ranked members.

STEVE


He has the looks of a gentleman, but he's actually a ruthless killer. He is a master of the martial arts, and he works as an informant to the Shadow Warriors.


Note: This is an unused image of Steve from the game's rom.

CHIN RON FOO (CHEN LONG-FU)


The No.1 Expert of Chinese Martial Arts in the Shadow Warriors. He is proud of his various kick moves and counter techniques. He teaches at Duke's Dojo in Chinatown with his younger brother, Chen Long-Biao. They consider themselves to be the real Double Dragons.

CHIN RON PYO (CHEN LONG-BIAO)


In contrast to his older brother, he puts more emphasis to his punching techniques. He has crushed several martial artists with his vertical fist and palm strike. He has a scar over his right eye, which he received during a previous death match.

JACKSON


A former heavyweight boxer. He delivers a powerful jab and a sharp uppercut, which are killing techniques. His best technique is the uppercut throw.

McGUIRE


The fat man of the Shadow Warriors. He has won several street fights due to his hardened stomach, which absorbs any attack.

CARLEM


A giant whose true character remains unknown. He uses a fighting style similar to Karate. His fastest and most chilling technique is a Middle Kick he proudly calls "the Leg of Death." He is feared even among his companions.

DUKE


The founder of Duke's Dojo. As an advocate of dictatorship, he has taken over several dojos by force. His personal background is a mystery and very little is known about him.