Main
Video Games
Films
Cartoon
Comics
Music
Advertisements
Merchandise
Features
Interviews
Miscellaneous
Interactive
Forums
Mailbag
Fan Fiction
Fan Art
Hosted Sites
Double Dragon Characters
Neo Geo/PlayStation versions
Special thanks to William Wong.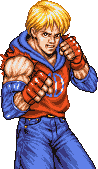 BILLY LEE
DATA:
Voice: Hikaru Midorikawa
Birthplace: Los Angeles
Height: 5'9"
Weight: 154 lbs.
Fighting Style: Sousetsuken
Hobbies: video games, cars
A kind hearted, justice-loving young man who grew up learning Chinese and Japanese martial arts from a very young age. With his older brother Jimmy, he created the fighting style "Sou-Setsu-Ken." Sou-Setsu-Ken is a combination of Shaolin Kenpo, T'ai Chi, karate, judo, aikido, etc. Billy runs a martial arts dojo with his brother where he works on developing and mastering the best technique, but a letter from their old instructor brought them back to the city in which they grew up. Upon hearing of Koga Shuko from Marian, Billy makes the decision to destroy his evil organization.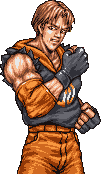 JIMMY LEE
DATA
Voice: Kaneto Shiozawa
Birthplace: Los Angeles
Height: 5'9"
Weight: 161 lbs.
Fighting Style: Sousetsuken
Hobby: training
A master of "Sou-Setsu-Ken," he runs a dojo with his younger brother, Billy. Unlike the quick and agile Billy, his expertise is in heavy and powerful offensive moves. Being well aware of Shuko's powers, Jimmy attempts to stop Billy from attacking the evil organizations, and he unwillingly heads for Bloody Town.
MARIAN
DATA
Voice: Yuka Koyama
Birthplace: Los Angeles
Height: 5'5"
Size: B31 W21 H34
Fighting Style: street fighting
Hobbies: window shopping, figure skating
A cheerful, justice-loving and very athletic young woman. She likes salad and cats. She seems like a typical girl, but she is actually the female leader of a street gang. Because of this, her strong personality and courageousness stand out, but she also has a kind and feminine side. While she is currently learning martial arts from the Lee brothers, she has also studied figure skating, so she fights with a tricky technique that utilizes those skills. She thinks of Billy and Jimmy as younger brothers who always need her help.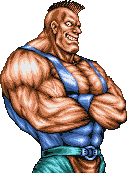 ABOBO
DATA
Voice: Daisuke Gouri
Birthplace: New York
Height: 7'2"
Weight: 336 lbs.
Fighting Style: street fighting
Hobbies: body building, fighting
The New York city fighters fear him as "the strongest man." At times, his opponents lose just from being frightened by his size. With his superhuman strength as his main weapon, it takes virtually no effort for him to bring down a large number of enemies at once. He is currently Koga Shuko's right-hand man, but he is always getting his victories stolen by Burnov, who is also of the organization. As a result, these two get along very poorly.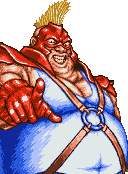 BURNOV
DATA
Voice: Daisuke Gouri
Birthplace: Detroit
Height: 6'3"
Weight: 495 lbs.
Fighting Style: wrestling
Hobbies: guitar, cooking
Proud of his invincible strength, he was once a professional wrestler feared as "the human bomb." He was the super heavyweight champion, but after learning of Koga Shuko's existence, he retired immediately. At present, he is in charge of a whole district within the organization. He is usually quiet, but when excited, he becomes a killing machine.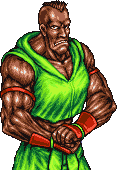 EDDIE
DATA
Voice: Yukimasa Kishino
Birthplace: Venezuela
Height: 6'5"
Weight: 209 lbs.
Fighting Style: kick boxing
Hobbies: training, self-improvement
The creator of an original style of kickboxing formed from a mixture of Muay Thai and martial arts, he teaches this new style to students at a gym. As one of Shuko's men, he has been secretly scouting for talented students, but he is finding it harder to quiet his inner self as a true martial artist.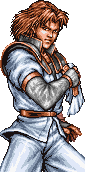 AMON
DATA
Voice: Kaneto Shiozawa
Birthplace: probably Japan
Height: approximately 5'11"
Weight: approximately 154 lbs.
Fighting Style: Ryuganinpoh
Hobby: disguises?
He practices the legendary ninja art of "Ryuganinpoh." He has crossed the ocean in search of his family, who disappeared without a trace. There are many rumors floating around, but none of them have been verified.
CHENG FU
DATA
Voice: Hisao Egawa
Birthplace: Hong Kong
Height: 5'9"
Weight: 167 lbs.
Fighting style: Suihassenken
Hobby: sake (alcoholic drink from Japan)
He is a strange martial artist who is both joyful and careless. He is a pushover and justice-loving. He hates lectures and making an effort, and he is always sneaking away from his instructors. He got lost in San Francisco, and as a result of his personality, ended up fighting against Shuko.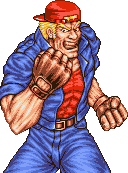 DULTON
DATA
Voice: Yusaku Yara
Birthplace: Italy
Height: 6'2"
Weight: 213 lbs.
Fighting style: street fighting
Hobby: arm wrestling
He is a street fighter who travels from city to city. He is happy and proud and feels much empathy for others. He is very responsible. It is unknown why he wanders so much, but according to a rumor, he is supposedly searching for a mysterious person, and that person may be Koga Shuko.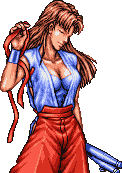 REBECCA
DATA
Voice: Keiko Han
Birthplace: Holland
Height: 5'8"
Size: B35 W24 H36
Fighting style: Tonfa
Hobbies: tea ceremony, Japanese dance
Her father was an instructor of karate, aikido and judo, and as a result, she is learning martial arts for her own protection. She was in love with Eric, a young man she met at the dojo, but she eventually discovered that he was one of Shuko's men and was attempting to take over the dojo for the organization. Rebecca was shocked and attempted to convince Eric to change his ways, but he turned on her, showing his true self. She realized that his love for her was fake and, in tears, fought him and won. Wanting vengeance against Shuko for hurting her female sensitivities, she stands against him in order to prevent something like this from ever happening again.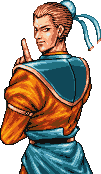 DUKE
DATA
Voice: Hisao Egawa
Birthplace: San Francisco
Height: 6'4"
Weight: 189 lbs.
Fighting style: Moukohisouken
Hobby: origami
He is Shuko's mysterious bodyguard. He practices "Moukohisouken," a martial art feared in China Town as "the shadow murder." He is calm and unemotional, and favors a method of fighting that causes pain without letting either one live or die. Whenever something big and evil is going on, he is said to be in the shadows of it.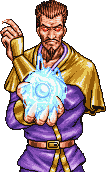 KOGA SHUKO
DATA
Voice: Osamu Saka
Birthplace: Los Angeles
Height: 6'1"
Weight: 189 lbs.
Fighting style: Kobujutsu & Ninpoh
Hobbies: chess, shogi (Japanese chess)
He is the dictator of evildoers that run all over Bloody Town. He is an excellent martial artist with invincible strength. He works at having complete control over all of the street gangs.