Double Dragon 3 Characters
Arcade/Genesis/Game Boy/home computer versions
MAIN CHARACTERS


BILLY LEE
Total HP: 230/345
Size: 65kg/175cm
Special Move: Tou-Bi-Ryuu-Jin-Ken (Head Tail Dragon God Fist)
The heir of Sou-Setsu-Ken. He started to learn Chinese Kenpou from his father when he was 12 years old. He then learned several fighting styles for eight more years. When he turned 20, he became the heir to Sou-Setsu-Ken. He recently returned from a training mission and is now facing his biggest challenge yet: to find three Rosetta Stones.


JIMMY LEE
Total HP: 230/345
Size: 70kg/178cm
Special Move:Hi-Ryuu-Raku-Pa (Flying Dragon Drop)
Billy's older brother. He and Billy were responsible for the downfall of the original Black Warriors gang a few years ago as well as the death of their leader, Willy. Since then, they went on a mission to complete their Sou-Setsu-Ken training. Ttwo years later, they are now on a worldwide hunt for the Rosetta Stones.


RONEY URQUIDEZ
Total HP: 270/405
Size: 83kg/197cm
Special Move: Ko-Soku-Ryuu-Sen-Bi (Solid Leg Dragon-Whirl-Tail)
A World Martial Arts Champion.


CHIN SEIMEI (CHEN JING MING?)
Total HP: 290/435
Size: 84kg/169cm
Special Move: Sou-Hou-Gan-Ji (Two Way Eye Ear)
An expert of T'ai Chi Chuan. He is the brother of Chin Taimei, a member of the original Black Warriors. He joins the Lee brothers in the hopes of fighting against them someday.


OOYAMA MASAHIKO
Total HP: 230/345
Size: 64kg/174cm
Special Move: Mou-Ko-Kai-Ha-Zan (Fierce Tiger Rotating Mountain)
A Teacher of Joushin Karate (?).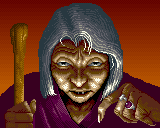 HIRUKO
A soothsayer who helps the Lee brothers on their quest for the Rosetta Stones. Is she really taking them on a journey of enlightenment, or is she merely using them for her own greedy gain?
---
ENEMIES
MISSION 1 (AMERICA)



BIKERS
Members of the Neo Black Warriors. They're not very strong, but they will try to gang up on you. They know how to use the Triangle Kick and they will try to run over you with their bikes whenever they can. They also appear on their bikes at the beginning of Mission 5.



JIM
Leader of the Neo Black Warriors and the boss of Mission 1. He is the brother of Willy, the leader of the original Black Warriors, who was killed a few years ago by the Lee brothers. Unlike his cowardly brother, Jim prefers to fight with his bare hands. He's not very strong compared to the later bosses, but watch out for his Flying Knee Kick.
---
MISSION 2 (CHINA)



MARTIAL ARTISTS
In Mission 2 you will fight against a group of Chinese fighters. Their fighting styles are very similar to that of the Neo Black Warriors, but they're much stronger and more defensive. Watch out for their flying kicks.


LI
The boss of Mission 2. A master of Kung Fu and keeper of the first Rosetta Stone. Li is a very formidable opponent and he will take out a tonfa when he is low on health.
---
MISSION 3 (JAPAN)



SWORDSMEN
These Japanese fighters are armed with long, sharp katanas, which allow them to inflict serious damage. Watch out for their jump kicks as well.



YAGYU RANZOU
The boss of Mission 3. He is a very flexible and a strong warrior. Watch out for his shurikens and smoke bombs. Also, he will split into three mirror images during the battle.
---
MISSION 4 (ITALY)


ARCHERS
These barely dressed gladiators are armed with bows and arrows. As a result, their attacks have a very long range. They will also hit you with their bows at close range.



GIULIANO
The boss of Mission 4 is this guy with the Gladiator outfit. He makes his debut riding a horse. Possibly the most annoying boss in the game (next to Cleopatra). His spear has a long range and he can block some of your attacks (such as jump kicks) with his shield. Not only that, but a gray-skinned version of him appears in Mission 5 with a chakram flying around the room.
---
MISSION 5 (EGYPT)


WOODMEN
These strange creatures reside in the Enchanted Forest in the beginning of Mission 5. They are not very strong but they have a very long reach and can gang up on you.



STONEMEN
Rock solid creatures that reside deep within the pyramid. Watch out for their shooting fist and teleporting technique.




CLEOPATRA
The last boss. Cleopatra in her mummified form is actually quite slow and predictable. She does great damage, but you can hold her off by doing off-the-wall jump kicks. However, in her revived form she is probably the most annoying enemy in the game. She flies around the room too much, throws several kinds of projectiles, throws you off magically, and it's hard to stay close to her without sustaining major damage. A really tough end boss.