Main
Video Games
Films
Cartoon
Comics
Music
Advertisements
Merchandise
Features
Interviews
Miscellaneous
Interactive
Forums
Mailbag
Fan Fiction
Fan Art
Hosted Sites
Double Dragon
Console: Cellular Phones
Developer: Bandai
Publisher: Bandai Mobile
Number of Players: 1
Release Date: July 15, 2004

Story | Codes | Characters
---
By Cloudmann
Contributing Writer
Introduction:
First of all, this is NOT a review of any of the umpteen emulated mobile versions of the game. Those are just java emulators running an NES ROM. This is an actual dedicated game.
OK, so I just got done with an eight year stint in the Navy. I've been looking back at this website and the many reviews on it, and (having not been in the real world for eight years) I've come to an epiphany of sorts. Moore's Law (the rule of thumb that states that computer processing complexity doubles approximately every two years) seems to have slowed on the computer and set-top console front. Take a home PC or gaming console from 2004 and compare them to ones from today. The new ones are certainly much more complex, but not sixteen times so. I think technology caught up to the law and is beginning to trickle a bit slower. Take cell phones, however, and the story is different. A 2004 cell phone is leagues inferior to today's smart phones; more than sixteen times less complex. This shows up best in games and complex apps. The iOS/Android Double Dragon port, compared to this game, is a perfect example. So, I have to grade this game based on expectations in 2004, before smart phones were the norm; before you had a mini-laptop in your pocket. That said, on a whole lot of fronts, this game actually did deliver. The graphics are impressive given screen restrictions, and the sound is fairly well done. How does it all fall together though, and how faithful is it?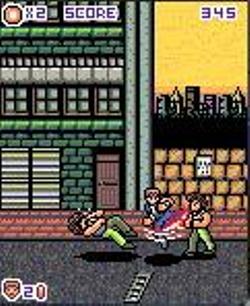 Graphics: C+
First let me apologize for the low number of screen grabs and their low quality. I could not find a copy of this game to emulate, so I had to Frankenstein an old Sony Erricson of mine to connect it to my capture card. This had mixed results. Some shots were pure noise, some were great, some were half cut apart, and some (like the title) were shrunk. I saved what I could. I tapped off of the LCD inputs, and I'm honestly surprised I got any results (putting 8 years of military electronics training to fine use). I can't seem to replicate the results (I think I cooked a couple of the output leads from my phone's PCB to its LCD screen). All of that said, this would have been a solid letter grade higher but for one fact: there's way too much slowdown, even on a phone built two years after the game's release. Really, the graphics are nice, fairly accurate, and portray the game pretty well. They're very retro 8-bit. I kind of like them, truth be told. But that slowdown (that pops up randomly, regardless of the number of enemies onscreen or the complexity of the background) kills the gameplay. It really should get a lower grade, but that retro look; Cloudmann likey. Enemies look faithful to the NES/Master System sprites, backgrounds look like they could come from either system, and all the levels are there (though modified a bit, for better or worse). That slowdown, however, will have you wanting to throw your phone against a wall. So much potential, such little result. What a shame.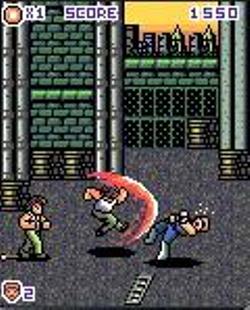 Sound: B
Not too much to complain about here. The sound effects are a bit sparse, but they sound appropriate enough. The music is certainly impressive (given the technology) and recognizable, and nothing feels lacking to any real degree. It just doesn't feel "complete." Better than mediocre, but not quite great. Just good enough.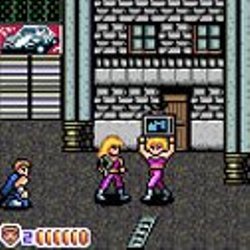 Enemies: B-
You've got your arcade enemies here (all looking very NES-ish), all with signature attacks, but they're really cheap. The crappy controls and the slowdown give them the advantage, and the enemies use it. Prepare for some frustration.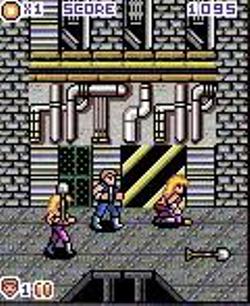 Weapons: A-
Not bad. Not bad at all. Lots more weapons here than can be expected, and they actually work. I gave a full extra letter grade for being able to toss a TV around. Wonder why none of the arcade ports had that? It's just genius! Too bad it's only as effective as a regular old box, but it's still awesome to see.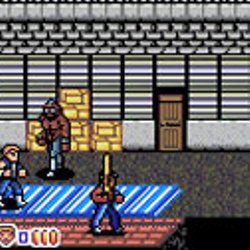 Controls and Moves: D-
OK, this did not rate an F only because it's on a phone. The directional cursor control/phone button scheme sucks! I really can't relay this properly… Imagine trying to steer an 18-wheeler with nothing but a screwdriver stuck vertically in the steering column. That would be easier than controlling this game. From the cramped controls to missed multiple button presses to accidental wrong button presses to playing hand over hand on your phone, this is horrible, through and through. Easily the worst part of this title. Barf-tacular!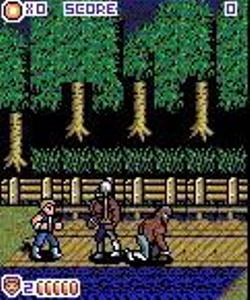 Modes: C-
This game should be called Single Dragon or Lone Dragon. Dragon Without a Brother. The Lonesome Brawler. Yep, one player… that's it. But, since it's a cell phone game from the time before online gaming existed on the platform, I can't give this a D; but I should have.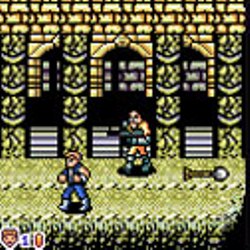 Conclusion/Overall: D+
Really, this score is a bit generous. The controls warrant an overall score of a D-, but the overall aesthetic really helped get it this high. Maybe it would play better in an emulator, but then it wouldn't be a cell phone game. I know that game controls on phones of this era sucked, but it was often worked around and done fairly well (my 8-year-old cell phone Pac-Man still plays like a champ). Not enough work was put into ironing out the controls and fixing the performance issues. For the day and age, this was really a missed opportunity for Bandai. I'd steer clear of this one and just get the infinitely superior iOS or Android game… or play it on the GBA if you need a Double Dragon fix on the go... I just played through it today to cleanse my palate of this soup sandwich.