Moderators: Steve Halfpenny, Jonny2x4
awesome looks very fun
"If the illusion spreads, the evil will live again. but if two dragons soar through the sky, an angel will fall to the Earth
The previous build had a small problem that made it crash on systems with no joysticks. It's fixed, I'm re-uploading it now.

[edit]Done.[/edit]
Just worth mentioning that Window users might have to use the Windows 98/Windows Me compatibility settings on the following exe files to get the game running on newer versions of Windows:
setup
setinput
ddragonf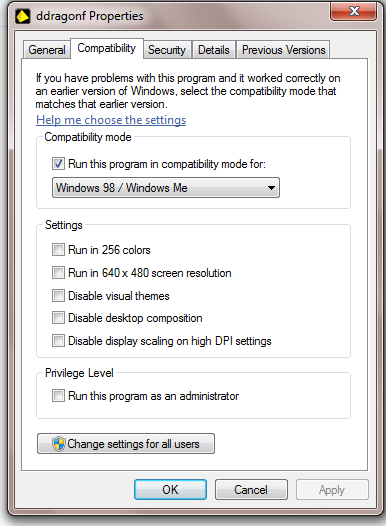 I don't think fullscreen was working properly as the play area was pushed up into the top left corner, and so on the rest of the screen i could see all the scrolling artifacts that usually would be hidden. My OS.: Win7. Very nice work!
I don't think Win7 supports 320x240. You must use either Window mode or Desktop mode.
I see that are only the "data". (new sprites & sounds)
does it work with the ddf 0.9 exe?
-------------------------------
edit:
--- i have tried it and the game start at thespladsh screen , when i pressed the button to continue , the game was frozen , then a black screen , and the game was closed.
edit 2 :
this message appears
runtime error 3502 - could not load music at line 7421
Question-
could be possible to get this game to another plataform like PS2? (maybe something like openbor engine fan games that are around the web )
----------
i 've played the updated version with the engine launcher.

In fact ,Cleber's work is still wonder! the cpu partner is a good idea ,& it helps you fairly in some difficult situations.
I was drawing my own customsprites for billy , gensetsu & marion only for fun & personal use on ddf v0.9 .
maybe i can contribute to this in some way, when the project has a rebirth, or the community get an "alternate" way to continue developing this great masterpiece.
Thanks again to Cleber for his great effort & the guys on the forum for keep this .
Users browsing this forum: No registered users and 0 guests