As some of you already know, Return of Double Dragon, the Japanese version of Super Double Dragon, has quite a few differences from its western counterpart. One difference I don't see mentioned that much is in the characters' moves. In both versions, Billy and Jimmy has a different set of punches: a rear fist, a vertical fist, and an uppercut for Billy, and a straight and hook for Jimmy. In Return of Double Dragon, their finishing kicks are different as well.

In Super Double Dragon, Jimmy's finishing kick is the same as Billy's: a reverse roundhouse kick, but in Return, he does a standard roundhouse kick. This actually affects the gameplay a bit, since Jimmy's roundhouse kick actually hits the enemies faster than Billy's reverse roundhouse. This is the opposite to their punches, in which Billy's hits faster.

Here's some screenshots for comparisons. Not that Jimmy's roundhouse kick animation is (ironically) a reversion of the reverse roundhouse.
Attachments: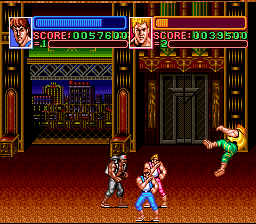 Return_of_Double_Dragon_(J) 2009 10_29 14-27-00.png [ 17.44 KiB | Viewed 4006 times ]
Return_of_Double_Dragon_(J) 2009 10_29 14-26-54.png [ 17.45 KiB | Viewed 4006 times ]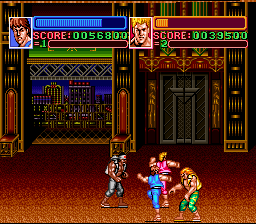 Return_of_Double_Dragon_(J) 2009 10_29 14-26-52.png [ 17.38 KiB | Viewed 4006 times ]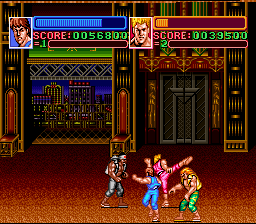 Return_of_Double_Dragon_(J) 2009 10_29 14-26-51.png [ 17.93 KiB | Viewed 4006 times ]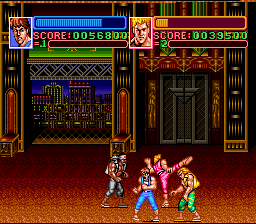 Return_of_Double_Dragon_(J) 2009 10_29 14-26-50.png [ 18.04 KiB | Viewed 4006 times ]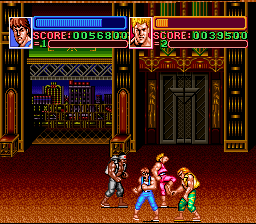 Return_of_Double_Dragon_(J) 2009 10_29 14-26-49.png [ 17.71 KiB | Viewed 4006 times ]
Return_of_Double_Dragon_(J) 2009 10_29 14-26-48.png [ 17.64 KiB | Viewed 4006 times ]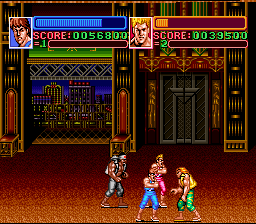 Return_of_Double_Dragon_(J) 2009 10_29 14-26-47.png [ 17.39 KiB | Viewed 4006 times ]