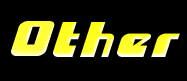 V I S U A L

Original Box Art
Scan of the front original box art for Double Dragon II in the US. Also the art featured on the game itself. Courtesy of the Double Dragon Dojo.





T E X T U A L

Arcade - NES Comparison
Here I examine the similarities and the major differences between the NES version of Double Dragon II and its parent arcade version.


Have something to submit? Send it over!